Let's face it, we all have those days when nothing seems to go right. It may start with a morning alarm failing to go off, the coffee pot breaking, or the dog eating a throw pillow, but however it begins, it can feel like a gray cloud is hovering over you, ready to rain down more bad luck. When those days happen, a bit of help can help turn that day around before it becomes too gloomy. And, if you happen to lock yourself out of the house, a local locksmith can be there swiftly to help you turn your day around. Of course, unlocking houses and popping car locks isn't all we do. Here are a few less-stressful times you should call a locksmith:
You Bought a House
Whether a residence is new or previously owned doesn't matter; if you just bought a property, one of your first calls should be to the local locksmith for re-keying. This is the process of changing the pins in the lock without changing the hardware. It's a quick and simple process, but it will make sure that any past keys no longer work. There is no good way to track how many copies of a key are made, who they are given to, and whether they were all collected before being handed over to you. Re-keying is a great way to ensure this doesn't matter.
In addition to re-keying, you'll also want a locksmith to verify that your outward facing locks are all installed correctly. For all the fancy high-security lock options out there, one of the most effective locks is the standard deadbolt—but only when it is installed correctly. Sadly, many contractors use this as a way to cut corners. In order for your deadbolt to be as effective as possible, the screws that attach the metal plate to your door frame and hold the lock casing in your door should all be 3 to 5 inches. A shorter screw won't have much effect against force, so a burglar can force their way into your home quickly and without much effort. Unfortunately, most contractors don't use long enough screws when they install their locks. So, while you've got a locksmith out re-keying your locks, ask them to check over and ensure all locks were installed properly.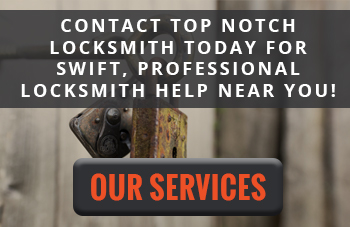 Security Improvements
The other major reason to call your local locksmith is to improve the security of your home or business. Often, many locksmiths work with the police, copying keys and helping them gain access to properties. It certainly makes our job feel a bit more thrilling! What this means for you is we're pretty knowledgeable about a wide variety of different security concerns and solutions. If you want to help reduce the risk of a break-in, contact your local locksmith. We can check over your property and offer advice for how to improve security, from installing different locks to even more rigorous options.
If you're looking to improve the security of your Philadelphia home or business, contact your local locksmith team, Top Notch Locksmith, today!