Think about how many movies out there involve someone getting locked out of the house—usually in the rain or several feet of snow, for maximum comedic effect. On the big screen, it can be a great set-up for whacky hijinks; in real life, however, getting locked out of the house usually feels like it comes at the worst time possible. Either you're already running late for work when you realize your keys are inside, where you can't get to them, or you've got armfuls of groceries and a crying child when the key snaps off in the lock. Whatever the case, these things happen, but that doesn't mean we'll enjoy them.
When unfortunate things like this happen, don't panic! When you call Top Notch Locksmith, you can trust that your local Philadelphia locksmith team will be there quickly to help you out. But opening locks isn't all we do. Stay tuned to our blog to learn all about the ins and outs of locksmithing for home, auto, and business alike. In our upcoming posts, we'll cover topics like the steps you can take to reduce your risk of home robbery or how to unfreeze car locks without damaging them. To give you a better idea, here are a few of the things we do:
It probably feels a bit too simple to say, if it involves locks and keys, we handle it. But, essentially, that's our business. Not only do we have the skills to get your home unlocked quickly, without damaging anything, but we also have the training to be sure we're doing so safely and professionally. Of course, that's not all we do. The locks on your home are designed to help keep everything secure, and our services are an extension of that. Whether you need to swap out old locks for new ones, re-key a few locks, or upgrade your home's security measures, we have the knowledge and expertise to provide advice as well as the residential locksmith services you need.
When it comes to your business, solid security is just as important. Whether you need to re-key or install a master key system, upgrade a keyless entry system, or have panic bars installed, the Top Notch team can help you with installation, repair, or replacement to keep your business secure.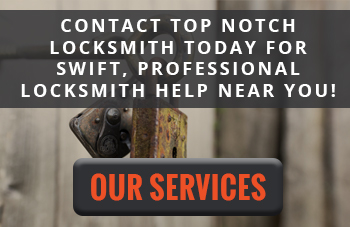 When you lock yourself out of your car and frantically search online for a "locksmith near me" in Philadelphia, you want to be sure you'll get help quickly, of course, but you also want to be sure you're getting help from a reputable locksmith who isn't going to take advantage and try to scam you. Unfortunately, this scenario happens. At Top Notch Locksmith, we want to help you feel safe and comfortable, even if we're coming to help you in the middle of the night. We are licensed, insured, and bonded, so you can trust that we can handle any situation professionally to keep you as safe as possible.
Whether you need emergency locksmith help or routine services, call the Top Notch Locksmith team for help in Philadelphia today!