It probably sounds pretty simple to say, but we have locks on our homes, businesses, and vehicles to protect them. As these are places that we keep the things most important to us, the thought of being robbed is a pretty heart-rending one. If you're concerned about your home's security, here's the good news: you don't need to invest in a high-tech home security system that costs thousands every year to monitor. Of course, that monitored security system is certainly going to help, but it's not the only option. Instead, contact your local locksmith for help improving your home's security!
In The Mind Of A Thief
In 2013, a group of researchers at the University of North Carolina at Charlotte conducted an in-depth survey and study of convicted burglars in order to trace patterns and understand the thoughts behind their behavior patterns. And the results of the study were certainly interesting and occasionally unexpected. If you want to, you can download the entire published study here, but we'll hit the salient points for you.
One of the most interesting and relevant findings is that the primary considerations when picking a target were the proximity of people—in nearby homes, on foot, and in vehicles—as well as the location. Further, only one in eight of the surveyed burglars took the time to pick a lock or acquire a key ahead of time; more often than not, they forced entry through a window or door. Alarm systems also played a role, but only 60 percent said they would abandon an attempt on a home that had a security system.
Improving Your Home's Security
Based on the findings from the UNC Charlotte study, there are a few easy things you can do to implement better security for your home. First and foremost: check your locks. Builders and contractors are notorious for cutting corners where possible, and often, your home's locks are one of the common places this happens. A deadbolt, despite its simplicity, is one of the best lock styles available; however, it only works effectively if it was installed properly. This means the bolt part of the lock needs to extend at least an inch into the door frame when the lock is engaged and the security plate should be attached with screws that are three inches long at minimum. These measures make it immensely difficult and time-consuming to force a door, which will help drive a thief away.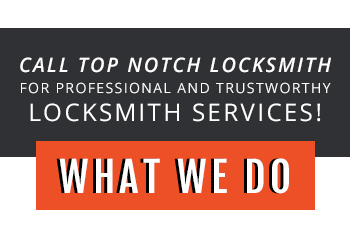 The other key step you can take to protect your home is to make sure there is a clear line of sight to possible entry points. While your verdant green hedges can be a beautiful addition to your landscaping, they will need to be neatly trimmed back so they don't offer an easy hiding spot for a burglar.
If you're looking for further ways to protect your home from potential home burglary, trust your security to the lock and key experts. Call Top Notch Locksmith for trustworthy and experienced locksmith assistance in Abington and the greater Philadelphia area. Contact us today to see how we can help!