If you've never had the need to call a locksmith before, well, lucky you! However, one question we get asked pretty regularly is how we know the house (or car) is yours before we unlock it for you? This is a very important question because, as you can imagine, it occasionally happens that people try to call a locksmith for help getting into a house that isn't theirs. As locksmiths, we certainly don't want to be party to breaking and entering, and we know you don't want us to either! Unfortunately, there are plenty of scammers out there looking to capitalize on the work without legitimately being locksmiths—and that's usually where homeowners run into trouble. So, in order to be sure a locksmith is trustworthy, here are a few details you'll want to keep in mind to verify before you let them do any work on your Philadelphia home.
We Have Proof
Licensing
First and foremost, one of the best ways to ensure a locksmith is not a scammer is to ask to see their paperwork. In most states, a license is required before an individual can work as a locksmith, even if they have years of training and experience. The licensure process generally involves a thorough exam, to ensure each individual has enough knowledge to do their job properly, as well as a background check to see if that person has any criminal history. In fact, some states even require a background check for locksmith apprentices. If there are any concerns, the state won't issue a license to that individual, so always start by asking a locksmith whether they are willing to provide proof of license. Since many states require that locksmiths display their license in a window or other visible location, a legitimate locksmith won't hesitate about showing you their license as well as identification to show that they are the individual listed on the license. You can also verify that license number online with the state's licensing bureau.
Bonding, Insurance
On top of licensing, most legitimate locksmiths will also carry insurance and choose to be bonded. Liability insurance protects the locksmith, in case anything happens to their equipment or materials, but it also protects you, the customer. If any damage is accidentally done to your property, the locksmith's insurance will generally pay to repair it. Bonding is another step many locksmiths choose to go through as a way to prove they are legitimate. It's a bit like insurance for the locksmith's work; essentially, bonding is a secondary assurance from a bonding company that the locksmith will finish the job and repair any damage. In order to be bonded, a locksmith will have to go through several steps that include proving their training and showing proof of insurance. As with their license, an insured and bonded locksmith should be willing to show you proof for both of these.
Uniforms, Etc.
Aside from official paperwork, be on the lookout for a few basic visual cues. These aren't always foolproof, but a legitimate locksmith will make the effort to show they are legitimate. When you're running your internet search for a "locksmith near me," seek out locksmith services who have a website with more information, not just a click-to-call number. Keep an eye out for: a company logo or other markings on their vehicle, a matching logo on a uniform shirt, and a name tag. While some scammers will go to lengths to fake this, all of the above added together should help you verify their legitimacy.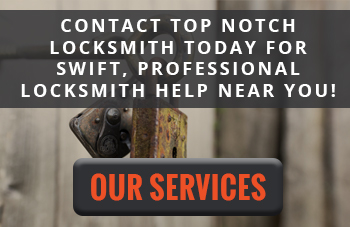 We Ask For Verification
In order to be sure we're unlocking property for the person it belongs to, we'll likely ask you a few questions too. When we come to unlock your home or car, we'll take down your address and ask for identification and your signature. If your I.D. is locked inside, the locksmith should ask to verify as soon as the door is opened and, if there are concerns or information doesn't match, will likely call the police. We take your security as seriously as you do.
When you need a locksmith in Philadelphia, be sure you're contacting a team you can trust. Top Notch Locksmith is licensed, bonded, and insured, so contact us today!